Method for realizing six-jaw clamping by three-jaw chuck
The most direct way to upgrade the processing capacity is to upgrade the equipment, but still need to cooperate with each other in processing. For example, we already have a 5-axis DMG machine, which has the ability to process parts with a diameter of 840mm, a length of 500mm, and a maximum weight of 600kg, and produces a variety of parts including circular, rectangular, and irregular geometric shapes. The traditional three-jaw chuck cannot meet the needs, and a safe, fast and flexible clamping method needs to be found to ensure the efficient operation of the new machine.
Floating clamping solution
The clamping method of the following group of products is worthy of reference. For the deformable parts and various combinations to clamp the workpiece, through the combination of jaws and components, the floating centering clamping patent can solve the centering of rectangular and geometric irregular parts. Processing issues.


For centering floating clamps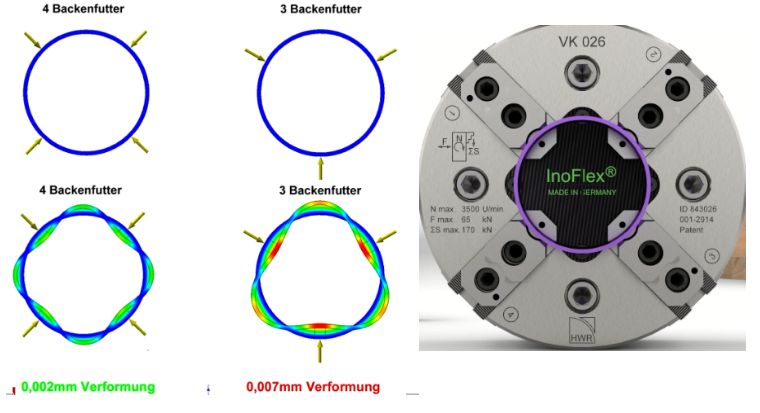 Deformable parts clamping

Hold square, round, asymmetric parts
Processing of easily deformable thin-walled parts
One of the solutions to the problem of clamping deformation of thin-walled parts is to increase the number of clamping points. If there is a simple method that can double the number of clamping points of the chuck without changing the chuck, is it possible?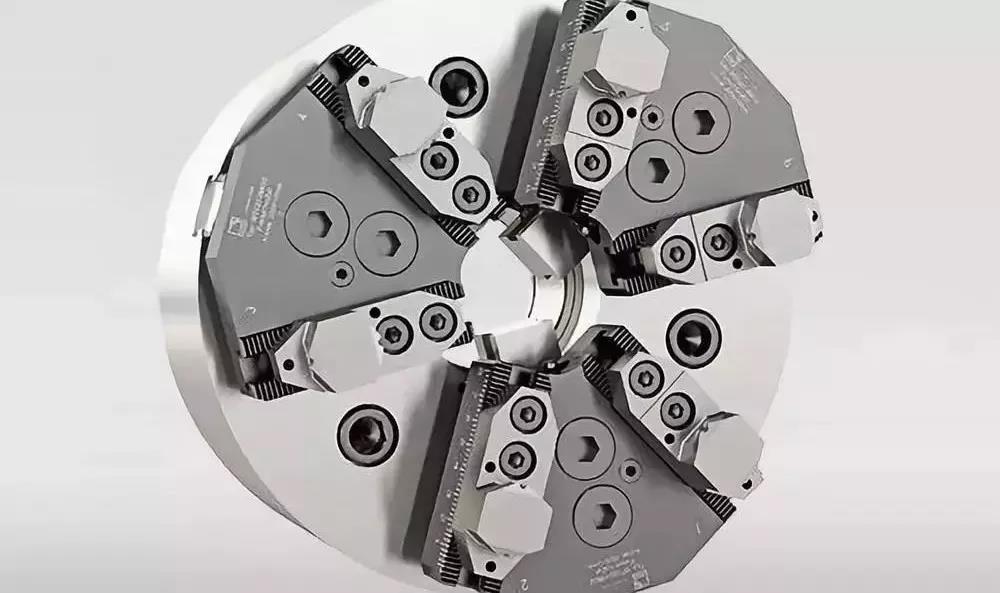 After integrating with the floating jaw, the traditional three-jaw chuck can easily achieve six-jaw clamping, and the clamping diameter can be quickly adjusted within a large size range, which reduces the deformation of the workpiece and saves the clamping of the workpiece. time.
Six- and eight-claw clamping
The applicable objects of the floating jaw system include non-circular appearance parts or parts deformed after heat treatment. After use, the traditional three-jaw chuck can realize the function of a six-jaw chuck. Add Xiaobian WeChat Yuki7557 to get a 10G NC tutorial. The mechanical floating mechanism of the overall slide seat achieves a reliable six-point floating clamping, effectively reducing the deformation of the workpiece. And its clamping diameter range can also be adjusted within a wide range to meet the clamping of different size workpieces.
The use of floating jaws on a four-jaw floating centering chuck enables eight-point clamping of thin-walled workpieces. At this time, the clamping deformation of the workpiece can be reduced to a few tenths of that at the time of three-point clamping.

Deformation comparison
Force analysis through engineering software simulation:
When the three jaws are clamped, the inner roundness of the workpiece after deformation is 0.365mm: